Install, configure & fund MetaMask
---
This page will show you how to configure the MetaMask browser extension. If you already have MetaMask configured, skip to Acquire testnet LINK.
What is MetaMask?
MetaMask is a wallet that runs as a self-contained application inside your browser as an extension. It allows you to interact with Decentralized Applications or "dApps". MetaMask makes accessing the Ethereum & Testnet blockchains (Like Kovan) very easy and provides you with wallet addresses.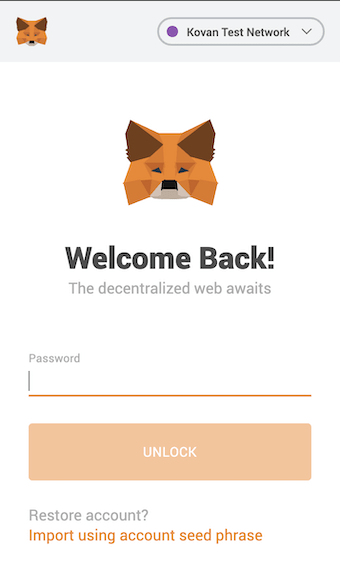 Install & Configure
Go to: metamask.io and install the browser extension in Chrome or Firefox.
After installing the MetaMask extension, open the extension by clicking on the MetaMask Fox icon. If prompted to use the New Look, do so.
Create a new vault.
You will be presented with a 12-word mnemonic phrase; copy that phrase down in a very secure location that only you can access.
Change the network selection from Main Ethereum Network to the Kovan Test Network.
Fund your address with Ether
In order to obtain Kovan ETH, follow the steps below:
Go to the Kovan Ether Faucet.
Enter your wallet address into the text box.
Hit the button to get "Test ETH", wait a minute, and you'll see it in your wallet!