Acquire testnet LINK
---
This page will show you how to obtain and add testnet LINK to MetaMask. If you already have testnet LINK, skip to Deploy your first contract.
Testnet LINK Faucet
Note
You can also get testnet LINK on other test networks, such as Rinkeby, from https://faucets.chain.link/rinkeby.
Open up MetaMask, click the Wallet account name at the top to copy the address to your clipboard.
Paste that address into the Chainlink Kovan Faucet address input field, solve the captcha, and click the Send request button.
You should see a modal show up with the text 'Transaction in progress'.
Once the transaction is confirmed on-chain, the modal will show 'Request complete', along with the transaction hash of your request.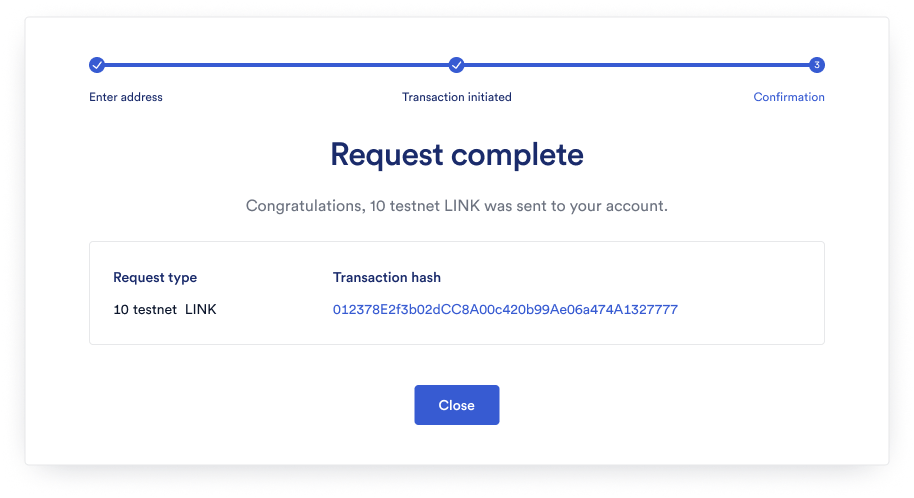 In order to see your LINK token balance in MetaMask, you will need to add the token.
In MetaMask click the hamburger button, and click on Add Token and then Custom Token.
On Kovan our LINK token address is: 0xa36085F69e2889c224210F603D836748e7dC0088. Copy that address.
0xa36085F69e2889c224210F603D836748e7dC0088

0x01BE23585060835E02B77ef475b0Cc51aA1e0709

Paste the token contract address into MetaMask in the Token Address input. The token symbol and decimals of precision will auto-populate. Click Next.
A new window will appear, showing the LINK token details. Click Add Tokens.
MetaMask should now display the new LINK balance.